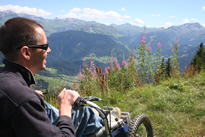 "Just wanted to say thankyou so much for my boma,
went out last nite and have never felt so free in all my life."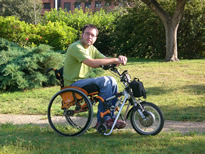 Home of the Boma - Award winning Off Road Wheelchair! Outdoor living is what our products are all about; from the awesome off road performance of the Boma off road wheelchair, to our wide range of Stricker handcycling accessories to make the most of the great outdoors; from fishing, shooting, biking with friends or just escaping... We aim to provide the equipment you need to get you out there.. >

The Boma wheelchair is available directly through Molten Rock or through our dealers and distributors in the UK, France, Spain and Germany.

Please make contact and we can send through further information, answer any questions you may have or even arrange a demonstration of the Boma.

Last Updated: February 1, 2011

1) Intrepid explorer Sally Hyder will be attempting Benn Nevis once more in June 2011. We are certain that Boma 7 will make the summit! Read Sally's amazing story in Finding Harmony.

2) Coast To Coast Challenge
Over 118 miles from Coast To Coast in the glorious June sunshine; Martin has completed his challenge on board his trusted Boma chair.

3) Boma Wins Innovation Award
Concours Lépine - Salon International de l'Invention de Paris.
Société Française de médecine du sport médaille dargent (Silver Medal) Boma.

4) Share your favourite Boma routes with sharemyroutes.com. Help us to build a list of Boma friendly routes...>

5) What adventures have you had with your Boma? Please get in touch with stories of your adventures and we'll put the best pictures on our site front page!... >